The word Mopar itself is actually a combination of the words "motor" and "parts." The word was first used back in the 1920s to sell Chrysler car parts. The name became its own brand starting in 1937. Since those early days, Mopar has come to be an umbrella term used to describe the different vehicles and parts that make up the different brands owned over the years.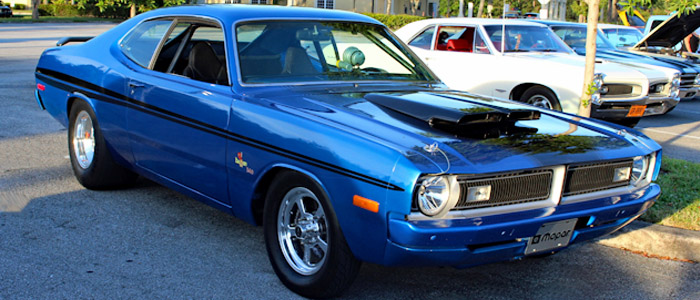 CSC-DANIA POINT 5 SHOW-031
CSC-DANIA POINT 5 SHOW-027
CSC-WILD WINGS CAR SHOW-026
CSC-DOWNRIVER CAR SHOW-017
CSC-DOWNRIVER CAR SHOW-044
CSC-PBISPEEDWAYCARSHOW-018
CSC-BRASS-MONKEY-SHOW5-036
CSC-BRASS-MONKEY-SHOW5-035
CSC-TALIASTUSCANSHOW2-020
CSC-TALIASTUSCANSHOW2-021
CSC-TALIASTUSCANSHOW2-022
CSC-SEMINOLECOBRAJOESHOW-01-020
CSC-SEMINOLECOBRAJOESHOW-01-008
CSC-CARSANDCOFFEESHOW3-008
CSC-CARSANDCOFFEESHOW3-034
CSC-CARSANDCOFFEESHOW3-033
CSC-CARSANDCOFFEESHOW3-030
CSC-CARSANDCOFFEESHOW3-036
CSC-ASPHALTANGELSSHOW5-008
CSC-ABACOADOWNTOWNSHOW3-015
CSC-TALIASTUSCANSHOW-01-014
CSC-TALIASTUSCANSHOW-01-011
CSC-TALIASTUSCANSHOW-01-013
CSC-WILTONMANOR-COBRAJOE-01-023
CSC-WILTONMANOR-COBRAJOE-01-022
CSC-WILTONMANOR-COBRAJOE-01-020
CSC-WILTONMANOR-COBRAJOE-01-042
CSC-DEESRASCALSCAROLINA8-018
CSC-DEESRASCALSCAROLINA8-017
CSC-WILDBUAFFLOWINGS2-005
CSC-PACKYGRILLCARSHOW-010
CSC-PACKYGRILLCARSHOW-019
CSC-TROPICAL SMOOTHIE-029
CSC-TROPICAL SMOOTHIE-028
CSC-HOLLYWOODCLASSICS-037
CSC-HOLLYWOODCLASSICS-036
CSC-CARSANDCOFFEE2SHOW-046
CSC-CARSANDCOFFEE2SHOW-026
CSC-CARSANDCOFFEE2SHOW-022
Throughout the years, Chrysler has manufactured some of the most familiar domestic brands around. This has included Dodge, Plymouth, Jeep, and the Dodge Ram trucks (such as the Ram 1500). Most recently, Chrysler has merged with Fiat, bringing some of the largest European vehicle brands under the Mopar moniker. While Mopar does not actually manufacture cars directly, Chrysler has used Mopar products to produce different types limited-edition vehicles over the years.